SODA BIKARBONA
SE VARNO UPORABLJA TUDI PRI ZDRAVLJENJU DRUGIH BOLEZNI
Simoncini uporablja v svojem zdravljenju 5%-ni odmerek sode bikarbone, ki je povsem neškodljiv. Pravzaprav je znano, da se natrijev hidrogenkarbonat že več kot 30 let varno uporablja pri zdravljenju mnogih drugih bolezni, recimo:
hude diabetične ketoacidoze(1)
pri oživljanju z umetnim dihanjem in masažo srca(2)
nosečnosti(3)
hemodializi(4)
peritonealni dializi(5)
zastrupitvi z zdravili(6)
jetrnih boleznih(7)
pri operacijah obtočil(8)
1. Gamba, G., Bicarbonate therapy in severe diabetic ketoacidosis. A double blind, randomized, placebo controlled trial (Zdravljenje hude diabetične ketoacidoze s sodo bikarbono; v dvojno slepem preskusu z naključno izbranimi primerjalnimi osebki so osebki v kontrolni skupini dobivali nedejavno snov), Rev invest clin, julij-september 1991, 3. št. (43), 234.–8. str.; Miyares Gomez A., Diabetic ketoacidosis in childhood: the first day of treatment (Diabetično-ketozna zakisanost otroka: prvi dan zdravljenja), An esp pediatr, april 1989, 4. št. (30), 279.–83. str.
2. Levy, M. M., An evidence-based evaluation of the use of sodium bicarbonate during cardiopulmonary resuscitation (Ocena dokazanih oživitev po zastoju srca in dihanja s pomočjo sode bikarbone), Crit care clin, julij 1998, 3. št. (14), 457.–83. str.; Vukmir, R. B., Sodium bicarbonate in cardiac arrest: a reappraisal (Novo ovrednotenje uporabnosti sode bikarbone pri srčnem zastoju) Am j emerg med, marec 1996, 2. št. (14), 192.–206. str.; Bar-Joseph, G., Clinical use of sodium bicarbonate during cardiopulmonary resuscitation–is it used sensibly? (Ali je pri srčno-dihalnem oživljanju smiselno klinično uporabljati sodo bikarbono?), Resuscitation, julij 2002, 1. št. (54), 47.–55. str.
3. Zhang, L., Perhydrit and sodium bicarbonate improve maternal gases and acid-base status during the second stage of labor (Perhidrit in soda bikrabona izboljšujeta porodničino dihanje in kislo-bazno stanje med drugo stopnjo poroda), Oddelek za ginekologijo in porodništvo, Bolnišnica Siangja, Zdravniška fakulteta v Junanu, Čangša 410008; Maeda, Y., Perioperative administration of bicarbonated solution to a patient with mitochondrial encephalomyopathy (Perioperativno dajanje sodine raztopine bolniku z mitohondrično encefalomiopatijo), Masui, marec 2001, 3. št. (50), 299.–303. str.
4. Avdic, E., Bicarbonate versus acetate hemodialysis: effects on the acid-base status (Acetatna proti bikarbonski hemodializi in kako vplivata na telesno kislost-bazičnost), Med arh, 2001, 4. št. (55), 231.–3. str.
5. Feriani, M., Randomized long-term evaluation of bicarbonate-buffered CAPD solution (Dolgoročna ocena učinkovitosti stalne ambulantne peritonealne dialize, ojačane z raztopino sode bikarbone, pri naključno izbranih osebkih), Kidney int, november 1998, 5. št. (54), 1731.– 8. str.
6. Vrijlandt, P. J., Sodium bicarbonate infusion for intoxication with tricyclic antidepressives: recommended inspite of lack of scientific evidence (Kljub pomanjkanju znanstvenih dokazov se pri zastrupitvi s tricikličnimi antidepresivi priporoča injekcija sode bikarbone), Ned tijdschr geneeskd, 1. september 2001, 35. št. (145), 1686.–9. str.; Knudsen, K., Epinephrine and sodium bicarbonate independently and additively increase survival in experimental amitriptyline poisoning (Epinefrin in soda bikarbona vsak zase in skupaj povečujeta preživetje zastrupitve z amitriptilinom), Crit care med, april 1997, 4. št. (25), 669.–74. str.
7. Silomon, M., Effect of sodium bicarbonate infusion on hepatocyte Ca2+ overload during resuscitation from hemorrhagic shock (Injekcija sode bikarbone zmanjša preobilje hepatocitov Ca2+ med oživljanjem zaradi izkrvavitve), Resuscitation, april 1998, 1. št. (37), 27.–32. str.; Mariano, F., Insufficient correction of blood bicarbonate levels in biguanide lactic acidosis treated with CVVH and bicarbonate replacement fluids (Zdravljenje bigvanidne laktične acidoze s hemodializo in z bikarbonskimi tekočinskimi nadomestki ne izboljša dovolj bazičnost krvi), Minerva urol nefrol, september 1997, 3. št. (49), 133.–6. str.
8. Dement'eva, I. I., Calculation of the dose of sodium bicarbonate in the treatment of metabolic acidosis in surgery with and deep hypothermic circulatory arrest (Izračunavanje odmerka sode bikarbone za zdravljenje presnovne acidoze pri kirurški hipotermiji na odprtem srcu), Anesteziol reanimatol, sep.–okt. 1997, 5. št., 42.–4. str.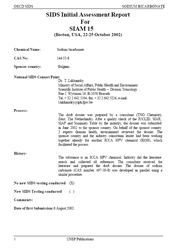 več o kemičnih lastnostih sode bikarbone (PDF)